SF-Series - Bluetooth® communication system for solo riders, rider to passenger, or groups of up to 4 riders

The SF Series offers communication solutions for solo riders, rider to passenger, or groups of up to 4 riders.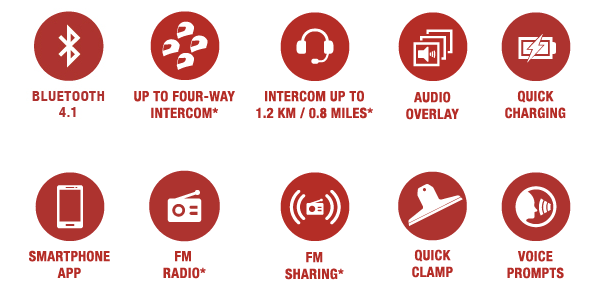 *Functionality unique to models SF2 and SF4 only.
THE SF-SERIES
Meeting the Communication Needs of Every Rider.
The SF Series was designed to give riders the exact features they need for their ideal riding scenario. The SF1 allows for 1 Bluetooth connection to a smartphone, MP3 player or GPS while both the SF2 and SF4 offer Intercom functionality. All SF models include brand new capabilities such as Audio Overlay™, Quick Charging and microphone mute option features. The SF Series boast a a sleek and low profile design that will fit on almost any helmet.

---



SF1
Bluetooth Connectivity for Those Who Ride Solo.
Whether you're commuting to work or primarily ride solo, the SF1 has you covered. The SF1 was created to give solo riders all of the awesome Bluetooth features that they need, without the ones they don't. The SF1 pairs to your phone allowing for music streaming, taking and making phone calls, and hearing turn-by-turn GPS directions. The SF1 also allows VOX Phone commands.

---



SF2 & SF4
Rider to Passenger or Small Group Communication.
For riders looking to communicate with their passenger, the SF2 provides simple Rider to Passenger 2-way intercom communication up to 800 m (880 yards) in open terrain. For those who ride in small groups, the SF4 is equipped with 4-way intercom over 1.2 kilometers (0.8 miles). Both models let riders enjoy smartphone connectivity. Riders can listen to music and use the intercom simultaneously using the Audio Overlay™ feature. Please note that Audio Overlay works best with Android devices, while iOS offers limited functionality.

---



STAY CONNECTED AND IN CONTROL WITH THE SENA SF UTILITY APP
Versatile Connectivity makes for Versatile Capabilitie.
Linking the SF1, SF2, or SF4 with the Sena SF Utility App (for iPhone and Android) allows you to configure device settings and access our quick guide at the click of a button. The SF Series devices can also easily connect to the Sena RideConnected App to intercom with a virtually limitless amount of riders over an infinite range, so long as you are connected to a mobile network.
Sena SF-Series specs
GENERAL
Talk time: 13 hours
Operating temperature: -10˚C ~ 55˚C (14°F ~ 131°F)
Dimensions:
Speaker: driver unit 38 mm – thickness 10 mm
Wired Boom microphone: length 183 mm
Wire between speakers: length 590 mm
Weight:
Module: 35 g (1.23 oz)
BLUETOOTH
Bluetooth 4.1

Headset Profile (HSP)
Hands-Free Profile (HFP)
Advanced Audio Distribution Profile (A2DP)
Audio Video Remote Control Profile (AVRCP)
INTERCOM*
Working distance:

SF4 - up to 1.2 km (0.8 miles) in open terrain
SF2 - up to 800 m (880 yards) in open terrain
AUDIO
Advanced Noise Control™
Built-in SBC Codec

Wide volume control
Sample rate: max. 48 kHz (DAC)
FM RADIO*
Built-in FM radio with RDS AF (Radio Data System Alternate Frequencies)
Radio region: worldwide
Radio frequency specifications: 64 ~ 108MHz
10 preset station memory with automatic scan function
BATTERY
Charging time: 1.5 hours
Quick Charge: 30 minutes of charging equals 4 hours intercom
* Only available for SF4 and SF2
Sena SF-Series product details